A quality bathroom remodel takes time. Especially if your project involves re-designing the space, sourcing materials, or getting permits, start early.
Often, homeowners find themselves remodeling their bathrooms because they want to improve functionality and style. That is a great opportunity to incorporate Jacksonville Bathroom Remodeling and prepare for future accessibility needs.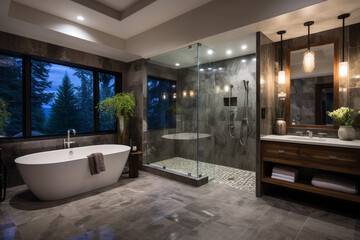 The cost of materials is a major component of bathroom remodeling costs. You can cut costs by choosing lower-cost or recycled materials and installing simple fixtures. Additionally, you can save money by buying materials in bulk and negotiating with suppliers. It is also important to set a budget and stick to it.
In addition to the cost of materials, bathroom remodels can require demolition and disposal costs. This is especially true for older homes with outdated plumbing and electrical systems. Demolition costs will depend on the size of the space and the number of existing structures that need to be removed. In general, demolition costs average about $50 per structure.
Many homeowners choose to hire a contractor to complete their bathroom remodel. While this is a cost, it can be well worth it in the long run, as professional contractors can often obtain discounts on materials and prevent costly mistakes.
Other factors that can impact the cost of a bathroom are unexpected issues that arise during the renovation process. These issues can include hidden rot, water damage, or electrical problems that must be addressed immediately. These issues can add thousands of dollars to your final bill. Including a contingency fund in your budget is important to cover these unexpected expenses.
If planning a small bathroom remodel, consider using a credit card to finance the project. Some cards offer 0% interest for up to 18 months, which can help you get your remodel completed without adding additional debt.
When it comes to financing your bathroom remodel, you have a variety of options. These include personal loans, home equity financing, and credit cards. Each has pros and cons, so weighing them against your financial situation and preferences is important. Determining how much you can afford to spend on the project is the most important factor. Using financing can make your project more manageable by breaking down the costs into monthly payments that aren't too burdensome.
A personal loan is a fixed-term, unsecured loan with an agreed-upon interest rate. This makes it easy to budget for and track your spending. It's also quick to obtain, with some lenders offering funds in as few as one to three days. However, you must be able to pay off the loan within its term, or else your credit score could be hurt.
Another option for financing your bathroom is a home equity loan or line of credit (HELOC). These secured loans use your home's value as collateral and typically have lower rates than other lending options. They can also be paired with a mortgage interest deduction, further enhancing their financial benefits.
Lastly, you can opt for an energy-efficiency mortgage (EEM). This refinance allows homeowners to borrow against the increased value of their home after making energy-saving improvements. It's a good option for those looking to save money in the long run and can help qualify you for higher debt-to-income ratios.
Finally, you can also consider cash as a form of financing for your bathroom remodel. There may be better options than this, as it requires you to have the funds on hand to cover all your project costs. But, if you can pay for the entire renovation with cash, it can save you money in the long run by eliminating interest and debt payments. Plus, it can help you avoid any unexpected expenses down the road.
The bathroom is a great place to make upgrades that increase the value of your home. However, you need to know which projects require a permit and when. This will help you avoid expensive mistakes and fines. You will also have peace of mind knowing your work is up to code. If you need more clarification, ask your licensed contractor for advice.
Generally, any renovation project that involves structural changes or changes to plumbing and electrical systems requires a permit. However, a few aesthetic changes, such as painting rooms and refinishing floors, may not require a license. Contact your local building department for more information if you need clarification on your city's needs.
A permit is a document that allows an inspector to visit your house and see what construction is taking place. The inspector will ensure the job is done correctly and meets safety standards. You may be subject to fines if you do not have a permit.
The permit cost will vary from city to city, but it is important to get one before beginning your renovation project. In addition to a license, you must obtain a dumpster rental and a construction parking permit if you live in an urban area. A licensed contractor will have the knowledge and experience to handle these tasks.
Most homeowners assume they will need a permit for every part of their bathroom remodel, but this is only sometimes true. Some cities only require a license for structural changes, such as removing non-load-bearing walls or adding a new window. In addition, homeowners living in a condo or co-op must often obtain a permit to work on their bathroom.
While obtaining a permit for your bathroom remodel can be inconvenient, it is necessary for your family's safety and that of any potential buyers of your home in the future. It is also a good idea to keep a record of your permits so that you can provide them to the buyer if you decide to sell your home.
A bathroom remodel can include several different options and changes, from repainting to installing a new shower. Knowing the nitty-gritty details, processes, and opportunities is important to make informed decisions that meet your goals and budget. For example, if you plan to install a new toilet, purchasing one with a two-piece tank and seat is best. This is because a single-piece model will have a seam, which can become a point of contention.
Choosing the right color scheme is another aspect that needs to be considered. A new paint job is relatively inexpensive, but it can have a big impact on the look of your space. Shopping around and finding inspirational photos before deciding is a good idea. That way, you can be sure your chosen color will complement the rest of your home.
Flooring is another element that can significantly impact the overall look of your space. While most people focus on the size and style of the tiles, a good contractor will also consider the material to ensure it's slip-resistant. This is especially important for older homeowners needing a walker or wheelchair.
Similarly, outfitting your bathroom with grab bars near the toilet and in the tub or shower is a good idea. These are not only functional, but they can also help boost safety and security. Grab bars should be installed securely to avoid tripping and falling hazards. Installing them is crucial, so a contractor should prepare the wall by blocking it before installation.
Another area that many people overlook is electrical outlets. These are a necessity for most bathrooms, as they're used to power many electronic gadgets, such as hair dryers, electric toothbrushes, and curling irons. However, the outlets should be located safely from fixtures like bathtubs and showers. A permit must be obtained before a remodeler can install any new outlets. To avoid delays, starting the process early and requesting a ticket as soon as possible is a good idea.