Clean bathrooms are an important sign of a business that cares about customers and employees. Stains smells, and broken fixtures contribute to low morale and decreased productivity.
Consider installing water-saving features, like sink aerators and touchless faucets. Milwaukee Bathroom Remodeling will help save energy and money while impressing eco-conscious clients and employees.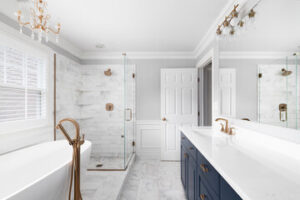 Nothing gives away the age of your building like an outdated and rundown commercial bathroom. Upgrading this space is an excellent way to boost morale and productivity. In addition, many sustainable bathroom design innovations are available to save energy and money. These include touchless faucets, sink aerators, waterless urinals, motion sensors, automatic dispensers, and hand dryers. These fixtures can help reduce utility bills while improving sanitization for customers and employees.
Before beginning your remodel, decide what aesthetic you want to achieve. This will guide the design and product selections. For example, if your business has a sophisticated and neutral color palette, you will want to match that in the bathroom design. For high-traffic areas, durable materials that withstand wear and tear are a good choice.
Once you have a clear idea of what you want, it's time to find a reputable contractor to handle your project. Interview a few contractors and ask to see examples of their work. Also, ask to meet in person to discuss your project and determine acceptable working hours and timelines. Once you've found a contractor, get a written bid outlining the scope of work, budget, and material selections.
Many commercial bathrooms relocate plumbing and electrical. This can significantly increase renovation costs as contractors must ensure the new installation meets all applicable building codes. This also means hiring a professional who understands local building codes, permitting procedures, and board approvals, if needed.
It's important to use durable materials that can withstand heavy usage. This includes faucets, toilets, and showerheads. These materials should be easy to wipe down and not harbor bacteria or germs. The layout should also be thoughtfully designed to avoid any nooks or crannies that are difficult to clean.
Lastly, consider using energy-efficient lighting and fixtures. The latest technology in bathrooms is designed to reduce water and electricity usage. This is a great way to save money and protect the environment.
Nothing dates a building or turns off customers and guests like outdated bathrooms. A commercial bathroom remodeling project is a cost-effective way to give your building a fresh, updated look and improve the comfort of your visitors and employees.
If you are considering a commercial bathroom renovation, it's best to begin planning the process early. Finding a contractor, obtaining permits, and ordering the necessary materials can take a few weeks. If you have a tight deadline for completion (for example, for an event or new tenants), communicate this with your contractor. This will help ensure the renovation is completed on time. Additionally, it's important to remember that lead times for certain items may be longer during peak season or after a holiday. Having this information ahead of time can reduce the risk of unexpected delays or costly overtime.
If your remodel requires a new electrical circuit, having a licensed electrician perform the work is best. They can ensure your wiring is up to code and safe for your employees and customers. A bathroom renovation often involves adding or replacing outlets and switches, so a licensed contractor can ensure these new features are installed properly and pass inspections.
If the only thing being replaced is a shower, tub, sink, or toilet, you don't need a permit or inspections. But, for more extensive remodeling, or if you plan to expand the room by moving walls or changing the floor plan, you'll likely need to obtain a permit and inspect your work. A licensed general contractor will know what's required and when and will be able to coordinate the various subcontractors you'll need to complete your commercial bathroom remodel.
Another aspect of commercial bathroom remodeling that often needs to be addressed is a washer/dryer installation. If your building's alteration agreement allows it and there's enough space, a washer/dryer unit can add significant value to the property and make things more convenient for employees and clients. If you're planning to install a washer/dryer, your Sweeten contractor will need to be able to reconfigure the floor plan or knock down walls to accommodate it. For example, in a recent Sweeten remodel, the Sweeten contractors added a washer/dryer to a 24-square-foot half bath by rearranging the floorplan and taking over two adjacent closets.
Be prepared for your business to be disrupted during a commercial bathroom remodel. Preparing for this is important, so I need to make a schedule and budget for the project and set up alternative restroom arrangements.
Commercial bathrooms require a lot of attention to detail to ensure accessibility for people with disabilities and to meet ADA standards. Whether you run a gym, locker room, spa, hotel, office building, or other business, your bathroom remodeling project may include installing accessible vanities, grab bars, and showers with ADA-compliant entryways and handrails. This is an opportunity to create a more comfortable and family-friendly bathroom for your employees, members, guests, customers, and visitors.
Before renovations begin, it is a good idea to review your plans with your contractor to ensure all the details are covered. This includes a scope of work, timelines, and costs. Having all of this in writing can help protect you and your contractor in case there are unexpected delays or changes to the project that add to the cost.
The demolition phase is the most disruptive part of a remodel because it involves tearing down walls, flooring, and other surfaces. This can take several days to a week, depending on the room size and what is being removed. It's important to cover furniture and other items to prevent damage during this time, as dust and debris can travel everywhere.
Once the demolition is complete, drywall and floors are installed. Depending on the materials used and the room size, this can also take a few days to a week. Once the drywall and floors are completed, painting and trim can be finished.
This is also a great time to upgrade your fixtures and appliances to energy-efficient options that will save money over the long term, reduce waste and water usage, and improve sanitization for your customers. Sink aerators, touchless faucets, waterless urinals, and motion-sensitive lighting are all available and can reduce operating costs while helping to keep your facilities green.
Once the demolition and construction phases are complete, it is time to install your new commercial bathroom products. You'll want to be prepared for some disruption and dust during this phase, so planning how the work will be handled is important. This includes having enough supplies, scheduling deliveries on time, and limiting the number of people working in each restroom.
This is also the time to put in any new toilets and bidets that need to be replaced or added. Make sure to consider the size of each bathroom and how it will fit in the space before making a purchase.
You'll also need to install toilet partitions. This requires additional plumbing and drywall installation, so you must hire the right contractors. Depending on the size of your bathrooms, this could be a lengthy process, so it's best to have a timeline and budget set in place before beginning this step.
Bathroom hardware sets, sinks and faucets, cabinet handles, recessed shower lighting, and vanity mirrors are some of the main items that need to be installed. Adding new medicine cabinets, towel bars, and robe hooks is also a good idea. You'll also want to update the bath fan, switch plates, dimmer switches, and outlet covers as needed.
Adding some final touches will help your remodeled commercial bathroom stand out. Consider including relaxation features like calming scents, soothing music, and touch-free technology. Adding premium towels and bathrobes is another great way to add comfort and luxury. You can even add a few indoor plants or wooden accents to give the room a spa-like feel.