Roofs are complex structures that protect us from rain, snow, extreme temperatures and sunlight. A person who builds or repairs them is called a roofer.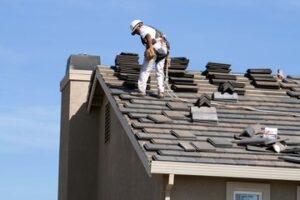 The structure of a roof is determined by the material used to cover it. Simple, lightweight materials such as asphalt shingles require little support while heavy tile roofing needs substantial reinforcement.
Your roof is one of the most important parts of your home. Not only does it protect your property from the elements, but it can also add to your home's curb appeal. There are many different roofing materials, and determining which is best for you depends on your architectural style and climate. It is important to consider your budget as well, as certain materials are more expensive than others.
Wood shingles or shakes are a traditional roofing material that offers a rustic, hand-crafted look. They are made from cypress, red cedar, or pine and are usually milled into uniform lengths and thicknesses. These types of roofs need regular maintenance to prevent moss or dryness, and they can be quite costly.
Clay tiles are another natural roofing material. These are molded and fired for durability, and they can withstand extreme temperatures. These types of roofs are commonly found in the desert and coastal regions, and they tend to absorb less moisture than other roofing materials.
Slate is another durable roofing material that can withstand high winds and temperature fluctuations. It is an eco-friendly choice that adds value to your home, but it is expensive and requires a specialist to install.
Asphalt shingles are another popular roofing material for homes. These are available in a variety of styles, with some even mimicking other roofing materials like slate and cedar. The three-tab asphalt shingle is the most economical option, while architectural and premium shingles are thicker to create a layered look on your roof.
Metal roofing is another popular option that can last up to 50 years. It is a good choice for flat or low-slope roofs, and it can be molded to look like other roofing materials. Aluminum, steel, and copper models are durable and resistant to fire and rain.
Green roofs are becoming increasingly common, and they are an excellent way to manage water runoff, cool a building, and provide habitat for wildlife. These types of roofs are an investment, however, and they require regular maintenance to keep them looking their best.
Installation
Roofing protects against rain, snow, sunlight, wind, and extreme temperatures. It comes in a wide variety of forms and shapes to serve aesthetic, technical, or economic considerations.
Installing a new roof is a major undertaking that requires special safety precautions. It's best to hire a professional contractor who is licensed, bonded, and insured. Look for one who specializes in your chosen type of roofing, has a proven track record, and is willing to provide local references. Some manufacturers offer programs that credential contractors as "experts" in installing their products; such contractors may have received more training than others.
Be sure to ask about the flashing (a thin metal material that seals joints, such as those around chimneys, vents, skylights, and walls) and ridge ventilation systems. These can help prevent leaks, promote air circulation in the attic, and reduce moisture buildup. It's also important to waterproof the valleys, which are the areas where the slopes of the roof meet.
Maintenance
A roof is an important part of a building's structure that protects against rain, snow, sunlight, extreme temperatures and other weather conditions. Proper maintenance of a roof helps extend its life and reduces the need for expensive repairs.
Roofing maintenance includes regularly inspecting the structure for signs of wear and tear, making repairs as needed and clearing away debris. Performing maintenance at least twice per year, including in the spring and fall, can help detect small problems before they become major issues. Ideally, a maintenance checklist should be tailored to the specific needs of each type of roof.
Inspecting a rooftop can include looking for areas of damage and deterioration, such as cracks, openings, or crazing. These areas need to be repaired immediately. Other important inspections focus on the condition of caulking and flashing, which is the thin material installed around chimneys and where different roof planes meet. Replacing the caulking and repairing the flashing will help prevent leaks.
Large trees should also be trimmed on a regular basis, especially if they are near the roof. This can prevent tree limbs from falling during heavy storms and natural disasters.
Other maintenance tasks include keeping gutters free of debris and scupper boxes (small drainage channels), which are used to drain rainwater from the roof. Inspecting the flashing on a chimney and vent pipes will also help reduce leaks. Look for areas where the caulking has become discolored, or that are starting to lift up, and address these issues right away.
A rooftop can also benefit from being cleaned to remove algae, mildew, lichen, and moss growth. These can affect the durability of the shingles and lead to rot and corrosion. Also, regular cleaning can help prevent the buildup of dirt and grime, which can cause abrasions on shingle surfaces. A qualified roofing contractor can recommend a cleaner or suggest a cleaning solution that will work best for each individual roof.
Repairs
Whether your roof is old and worn or new and in need of some attention, it's essential to address problems before they become worse. Repairing leaking areas, missing or damaged shingles, sagging areas and damaged flashing will help to ensure that your roof is water-tight and strong, protecting the underlying structures of your home. In addition, repairs to your roof can improve energy efficiency by reducing air leaks and making the home more comfortable.
A roof inspection can catch problems before they escalate into major damage, reducing the need for expensive replacements. A good roofing contractor will inspect the entire roof to identify any problem areas, including hidden issues like deteriorating sealants and loose or damaged shingle tabs.
Before you begin any roofing repairs, be sure to gather the right tools for the job. A roofing tool kit should include a pry bar, a hammer, a nail puller, shears and a utility knife. You'll also need a ladder and a bucket for collecting debris. Tarps and magnetic tools will also come in handy for picking up metal objects that have fallen off the roof.
The first step in repairing a roof is to examine the condition of the underlayment, which is the layer of protective material that lies directly beneath your shingles. This is usually made of plywood or oriented strand board (OSB). A roofer will look for soft spots in the underlayment and replace any that are rotting. They will also examine the flashing and sagging areas for signs of water damage.
Leaking or water damaged areas should be repaired as soon as possible. The underlying materials will be harmed if left unattended, and the moisture can creep into the living areas of your home, encouraging mold and mildew growth. A professional roofer will use a variety of methods to repair these areas, including caulking, re-sealing and replacing sections of the roof.
Another important aspect of a roofing repair is adding insulation. This will make your home cooler in the summer and warmer in the winter, thereby lowering your energy bills and contributing to the environment. Professional roofers will be able to recommend the best type of insulation for your home and climate. You may also be able to find local, state or federal rebates for installing insulation in your home.