Deck Repair Charleston SC require a professional eye to evaluate and decide on the best approach. Surface rot on planks, for example, may require removing and filling to prevent damage. Cracked or splintered boards can look unsightly and lead to further deterioration.
Tap any soft or loose board to see if it sounds wet or has water damage. Any water-damaged boards must be replaced.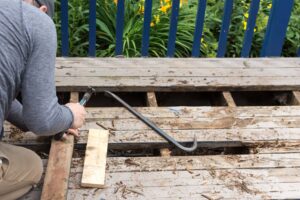 Deck stairs are exposed to a lot of wear and tear. Daily use and extreme weather conditions like freeze and thaw cause wood to deteriorate, creating a safety hazard for anyone using them. Stairs can also become unstable, sink into the ground, or collapse. Inspecting stairs regularly for damage or signs of structural failure is critical to maintaining safety.
Keeping your deck stairs in good condition can add to the life of your deck. Proper maintenance and frequent cleaning will help reduce the need for repairs, but when necessary, a professional contractor should be called to perform a deck repair job. Often, simple, timely deck repair efforts like securing a loose railing or replacing rotten stair treads will save you from more expensive and time-consuming repairs in the future.
When estimating deck stair replacement or repair costs, several factors determine pricing. Wood types, design, and size are all influential in the final price of a project. For instance, pressure-treated stringers are the cheapest option, while more durable Douglas fir or cedar costs a little more. Stairway width is also a consideration; wider stairs are easier to maneuver and can add comfort and convenience to your deck at a minimal cost increase.
Most deck stair repair jobs involve repairing or replacing treads and stringers, but some include other features such as landings or benches. These features can increase material and installation costs but may be worth it if your yard landscape lends itself to their inclusion.
In addition to repairing and replacing treads and stringers, deck stairs should be thoroughly inspected for a variety of issues, including:
Loose steps are a major tripping hazard, especially when the treads no longer lay flat. They can be hard to spot, but every open board and nail should be repaired as soon as they are noticed. Changes in temperature and humidity can cause boards to expand and contract, resulting in nails that come loose. These loose boards can easily be tripped on my shoes or barefoot, causing injury to the person making the trip. Checking for signs of moisture penetration, like rot and mildew growth, is also important.
As the name implies, deck railings provide safety and security for those using your deck. They can also add to the aesthetic appeal of your deck. If you find the wood or metal railings on your deck are rotten, loose, or otherwise damaged, it's time to replace them.
If the wood railings are loose, the solution may be as simple as tightening the carriage bolts that hold them in place. Open hardware is a common problem with wooden decks, especially in coastal areas where salt water can accelerate the corrosion of metal compounds. Periodic tightening can help, but if the problem continues, consider replacing the hardware with resilient, corrosion-resistant alternatives like stainless steel or galvanized hardware.
Metal railings can suffer from the same problems as wood, but if you have a composite railing, this type doesn't rust and requires much less maintenance than wood. Wood railings can become shaky over time due to shrinkage and expansion or because the wood is rotten. Wooden railings are prone to warping, which can be corrected by applying wood glue and re-nailing the rail.
It's also important to check the anchoring screws or bolts in the base plates of metal railing posts. These are often buried under the surface, and they can become loose over time. Please ensure these fasteners are secure by driving them back in with a drill or ratchet.
If your deck has a metal baluster, you can play with the plumb by shimming the top or bottom of the post where it sits on the rim joist. This will require significant cutting of the railing and a good bit of skill, but it can work. Be sure to use galvanized lag bolts with healthy-sized washers on both ends that go through the post and rim joist.
If the railing is completely rotted, remove the old spindle and any bits and pieces holding it in place. Measure and cut a new one and nail it into place. Then, caulk around the seam to prevent water from getting in and cause further damage. If you're replacing the entire railing, look for pre-built sections of wood or composite railings at your local hardware store that can be installed with minimal effort.
The deck surface and railings are the parts that most often need repair, but the deck's substructure also can show signs of deterioration. This can include sagging or bouncing and may also indicate a structural problem like wood rot. In these cases, a full deck replacement is likely necessary, as these issues can be dangerous and lead to structural damage in the future.
Generally, it is a good idea to invest in repairs when necessary to protect the life of the decking and keep it looking beautiful. This is especially true regarding pressure-treated lumber, which can benefit from regular resealing and restaining. However, there is a line that needs to be drawn when the cost of repairs becomes similar to or even exceeds the cost of a new deck. In this case, a full deck replacement is often the best option for homeowners.
One of the most common reasons for a full deck replacement is pervasive rot in the joists, beams, or posts. This can cause the structure to sag or even fall apart, which is dangerous for anyone using the deck. In many cases, these problems can be prevented by regularly inspecting the deck and fixing any issues immediately.
Another common sign that it's time to replace your deck is if the deck boards are starting to warp or split. This indicates that the deck's substructure is weakened, causing the boards to buckle or bend. Investing in a professional inspection and repairs can help prevent these problems and extend the life of your deck boards.
While a deck can be resurfaced to look brand new, it is not a good idea to try this on structures with extensive wood rot or other serious structural problems. This will only prolong the life of your deck for a few years and may make it more expensive to do a complete replacement in the long run.
A good way to determine whether it's time to replace your deck is to ask yourself how much longer you want to use the space and if you think it will increase in value in that time frame. If so, a new deck is an excellent investment that can pay for itself in less time than you might expect.
Deck boards are prone to warping from rain and sun exposure. You can sometimes pry warped boards back into shape or flip them so that the undamaged, flat side faces upward for a permanent fix. If warping is widespread or accompanied by other signs of damage, however, you may need to replace the boards altogether. Whether or not you choose to replace the board, be sure to seal the area afterward to prevent future problems.
Your deck's surface can also be damaged from weathering and age. In some cases, a good scrub and a new stain are all it takes to make the surface of your deck look brand-new again. Just be sure to use a stain designed for your type of decking—a natural fiber brush works well with pressure-treated wood, while a medium-stiffness nylon brush is ideal for composite boards.
Many issues can cause your deck to sag or feel unsafe beneath your feet, including loose railings and floorboards. If you find loose railings, it's generally a simple matter of replacing the fasteners; however, this might not be enough to address a sagging deck caused by the structural joists themselves.
Loose floorboards are another common issue that can be addressed by removing and replacing the boards. However, if the problem is widespread and there are other signs of damage, such as wood rot, splintering, or a soft, spongy feel underneath your feet, consider a total deck replacement.
A sagging deck can pose safety risks, but you can often get it back in shape by replacing the joist hangers that connect the structural joists to the deck's beams. To do this, carefully inspect the deck for corroded joist hangers and replace them as needed.
Ultimately, the most important factor to remember regarding your deck is that regular maintenance is the best way to keep it looking and functioning at its best. Regular cleaning, scrubbing, and staining can help protect your deck from the elements, and keeping furniture and planters away from the surface can minimize moisture build-up that can lead to rot.